1. Choose Your Membership
We've got two types of cards to make sure you get the best value for your money!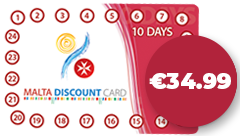 Holiday Card
10 Day Validity
Read More
The perfect solution for tourists visiting the Maltese islands for 1 night stay up to a maximum of 9 nights
Valid for up to 10 Days from date you choose to start using it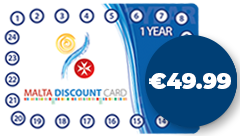 Annual Membership
365 Days Validity
Read More
2. Buy the Card Online
Use our online form to quickly and easy order your card and get it delivered to you!
Moreover the Annual Membership includes FREE delivery to any address in Malta & Gozo!
Delivered to your Address Worldwide
Read More
We can deliver your card everywhere in the world including tracking number – Shipping fee will apply and a consideration for estimated delivery time must be highly considered when choosing this option.
Delivered to your Hotel
in Malta
Read More
Delivered to your AirBnb Accommodation
Read More
We do offer various delivery options as explained below. When you book online, simply choose your preferred delivery method and you'll receive the card to the option of your choice. For anyone wishing to buy the Card from a physical location, please click on the link below for a list of Authorised Sellers.  Only the Holiday 10 day card is available from authorised sellers. 
3. Start Saving
Present your card and enjoy Massive Discounts!
Just show your Card with your identification and the discount will be given upon entrance, when requesting the bill or just after your dream experience came true!
Booking may be required by some of the establishments. Click here to view Establishments List
That's Not all! All Discounts are Unlimited… so you can benefit from the discounts over and over again throughout the validity of your card!
One Time Offers
Each card will also have 24 circles, each representing a restaurant which is also offering a special One Time Offer Discount
:

All and Offers can be found in the Establishment List
An Unlimited Discount is always followed in restaurants which offer a one time offer… so re visits in such wonderful restaurants are also discounted
One Malta Discount Card membership is valid for:

the holder of the card
1 accompanying guest
and up to 3 children under the age 12